---
CRC congregations weigh land acknowledgements amid rising awareness of indigenous injustices on both sides of the border.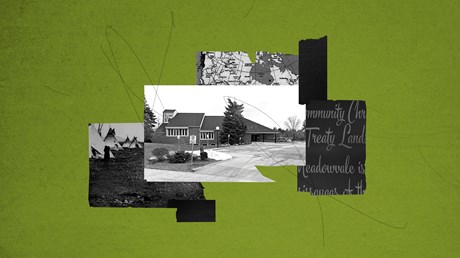 Visitors to a suburban Toronto congregation are greeted in the foyer or from the stage with the following: "The Community Christian Reformed Church of Meadowvale is located on the Treaty lands and traditional Territories of the Mississaugas of the Credit First Nation."
The statement names the indigenous community that once stewarded the land where the Canadian church stands. But a visitor to one of Meadowvale's hundreds of fellow American congregations across the border will likely find the practice of such "land acknowledgements" to be wholly unfamiliar.
The discrepancy is part of a larger divergence within the Christian Reformed Church in North America (CRCNA) as the denomination's 1,000-plus congregations—with one quarter in Canada and three-quarters in the United States—seek to serve amid neighboring cultures and governments moving at very different paces on addressing injustices done to their indigenous peoples.
In Canada, where the native community is known as First Nations, Inuit, and Métis peoples, the abuse that many indigenous students suffered at residential schools was the subject of a national, years-long reckoning through a federally backed Truth and Reconciliation Commission (TRC). In contrast, though many Native Americans in the United States experienced similar trauma, the schools' aftermath has only recently gained mainstream attention.
"Because of the [TRC] and the things that the government has done, the Canadian church has been encouraged to continue doing the work," said Viviana Cornejo, the CRCNA's racial curriculum and instruction specialist. "The United States as a whole is having a hard time dealing with the past. If …