---
Q&A with Mission Aviation Fellowship President David Holsten on the challenges of reaching the most isolated villages in the world.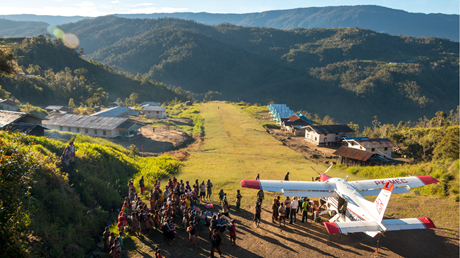 In a remote village on the side of a mountain in Papua, a man has been writing letters.
"I've written so many letters asking for teachers to come," he says. "I've written so many letters, my pens have all run out of ink. I don't have any more pens to write with. But then all of the sudden I heard you guys were coming. I was so happy hearing that I could not sleep at all last night."
A new documentary tells the story of that arrival and the missionary pilots who support the work of Bible translators, church planters, and Christian teachers in the remotest mountain villages. Ends of the Earth will be playing in about 700 theaters across the US on Monday, October 18, and Thursday, October 21. It is also available to churches.
CT talked to Mission Aviation Fellowship President and CEO David Holsten about the importance of the documentary, his theology of missions, and the challenges of flying small planes in and out of mountain villages like Puluk, where it took the people 15 years to build a runway with picks, shovels, and crowbars.
What are your hopes for this documentary?
We want people to see with clarity how the gospel can bring lasting change to somebody living in great isolation—isolation that isn't just geographical. They are spiritually isolated, linguistically isolated, ethnically isolated. In some of these villages, infant mortality is 80 percent, women and children are abused, and there's constant war. It's pretty horrific.
Liku, a Wano Bible teacher, says this in the documentary: "People in America might think we live in a pristine, beautiful place, but they haven't seen for themselves what it is really like here."
The gospel and the values …