---
Is a Texas man entitled to have his pastor lay hands on him at the time of execution?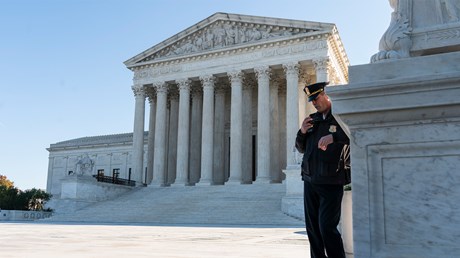 If you give a man in a Texas execution chamber the right to a prayer, is he entitled to two?
Or three?
Can he ask for candles?
Or Communion?
If the United States Supreme Court says a condemned man has the religious right to have his pastor touch his foot while the state injects a lethal dose of chemicals into his veins, then will the court also have to allow a pastor to touch a man's hand, his head, or even the place where the needle pierces the skin?
The justices quizzed attorney Seth Kretzer about the slippery slope of death penalty prayer on Tuesday morning, as they weighed whether the First Amendment and the Religious Land Use and Institutionalized Persons Act (RLUIPA), passed by Congress in 2000, give 37-year-old John Henry Ramirez the right to have his pastor lay hands on him and pray aloud when the state of Texas puts him to death.
Ramirez committed a brutal murder in 2004. He stabbed a convenience store clerk 29 times and slashed his throat to steal $1.25 in a drug-related robbery. Before a jury sentence him to death, Rarmirez was asked whether there were any mitigating circumstances he wanted them to consider. He submitted Psalm 51:3: "For I acknowledge my transgressions and my sin is ever before me" (KJV).
Today, Ramirez does not argue that he should be spared execution, but he has entrusted his life to Jesus; become a member of the Second Baptist Church of Corpus Christi, Texas; and accepted the spiritual guidance of pastor Dana Moore. He would like Moore to be with him when he dies, touch him, and pray aloud.
The Texas prison allowed this from 1982, when the death penalty was reinstated, until 2019. A former spokeswoman for the Texas Department of Criminal Justice, filing a friend-of-the-court brief …