---
Survey of almost 19,000 adults in 17 nations examines societal conflict between different religions, political parties, races and ethnicities, and urban and rural communities.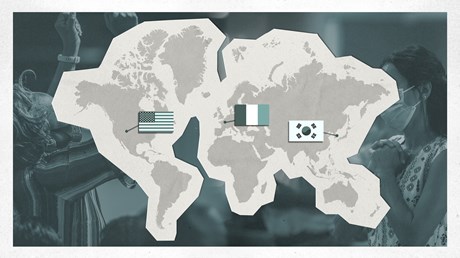 "Conflict" is a troublesome word to describe a society. But increasingly across advanced global economies—and particularly the United States—their societies believe it is the correct label.
If there is any good news, religious conflict lags behind.
The Pew Research Center surveyed almost 19,000 people in 17 North American, European, and Asia-Pacific nations this past spring about their perception of conflict across four categories: between political parties, between different races and ethnicities, between different religions, and between urban and rural communities.
The US ranked top or high in each.
A global median of 50 percent see political conflict, 48 percent see racial conflict, 36 percent see religious conflict, and 23 percent see urban-rural conflict.
But in the US, 9 in 10 viewed political conflict as "serious" or "very serious."
Asian nations varied considerably. South Korea matched the US at 90 percent seeing serious political polarization, with Taiwan third at 69 percent. Singapore was lowest overall at 33 percent, while Japan was 39 percent.
France (65%), Italy (64%), Spain (58%), and Germany (56%) followed Taiwan.
In terms of race, the US ranked first again, with 71 percent seeing serious conflict. France was second at 64 percent, and South Korea and Italy third at 57 percent. Singapore again ranked lowest, at 25 percent.
South Korea had the highest perception of religious conflict, at 61 percent. France followed at 56 percent, and the US at 49 percent. Germany and Belgium registered 46 percent each. Taiwan was lowest, at 12 percent.
Nearly 1 in 4 French (23%) saw religious conflict as "very serious."
Religious diversity, however, is not a consistent indicator …