---
Bands are rocking post-pandemic services, but congregants can't yet join in.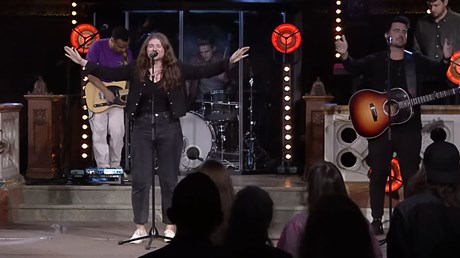 Last Sunday at London's Holy Trinity Brompton church, the band repeated the chorus, "Awake my soul and sing / Sing his praise aloud" before a sanctuary of masked worshipers who, according to government restrictions, could not comply.
Holy Trinity Brompton (HTB) is one of the largest Anglican congregations in the United Kingdom, and, like fellow churches across the country, still faces what some Christian leaders consider an inconsistent and discriminatory ban on singing during indoor worship services.
In England, COVID-19 precautions mandate that no more than six amateur singers can sing indoors, and guidance for churches has indicated that "indoor communal singing should not take place," according to the Evangelical Alliance of the UK.
Many churches, like HTB, have moved to hybrid services on Sundays, offering adapted worship back in their sanctuaries and continuing to livestream for those at home. While a few members of the worship band may raise a hallelujah during the worship set, the rest of the congregation attending in person is not supposed to join in.
HTB now offers four services at its Brompton Road location and a total of 10 Sunday services across other sites, but those who register to attend are asked to agree to a set of terms and conditions—including that "congregational singing and chanting is not permitted." Leaders ask that parishioners engage in worship in other ways as the team on stage performs.
After enduring lockdowns and months spent worshiping over screens, getting to be together on Sunday morning is a blessing, even if the congregation has to be on mute during the worship set. But it's not easy to keep quiet, pastors say.
"To hear more and more …