---
First anniversary of port explosion brings prayer and protests as severe need for humanitarian aid and political reform remains.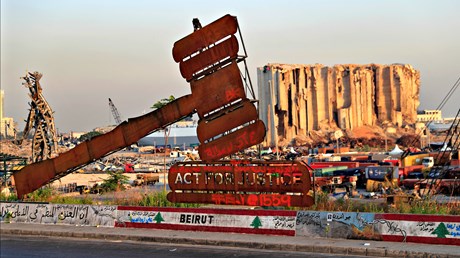 Banks, businesses, and government offices were shuttered as Lebanon on Wednesday marked one year since the horrific explosion at the port of Beirut with a national day of mourning.
The grim anniversary comes amid an unprecedented economic and financial meltdown, and a political stalemate that has kept the country without a functioning government for a full year. United in grief and anger, families of the victims and other Lebanese were planning prayers and protests later in the day.
The explosion killed at least 214 people, according to official records, and injured thousands. (In May, a Christian street artist dignified the deaths with a bold illegal installation of portraits.)
It was one of the largest non-nuclear explosions in history—the result of hundreds of tons of ammonium nitrate igniting after a fire broke out. The explosion tore through the city with such force, it caused a tremor across the entire country that was heard and felt as far away as the Mediterranean island of Cyprus, more than 180 miles away.
CT reported the next day how 16 Beirut ministries described the damage, their relief efforts, and the need for a hope beyond politics. In the ensuing weeks, Lebanese evangelicals did their best to address the trauma with creative counseling. Last month, Lebanese evangelicals along with other Christian leaders traveled to the Vatican to ask Pope Francis to help restore their struggling nation.
After the explosion, it soon emerged in documents that the highly combustible nitrates had been haphazardly stored at a port warehouse alongside other flammable material since 2014, and that multiple high-level officials over the years knew of its presence and did nothing.
A year later, there has …