---
Twenty years after terrorist attack, the spiritual needs of survivors continue.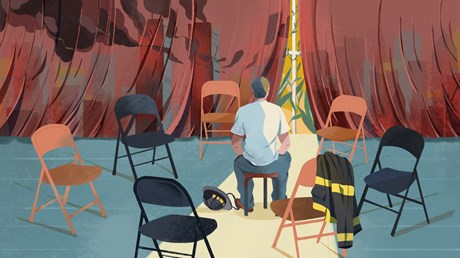 The news media and the nation would later call the site of the largest terrorist attacks in United States history by the name "ground zero." The firefighters and other first responders who rushed to the scene when two 110-floor buildings collapsed into 14.6 acres of mangled steel and concrete would call it "the Pit."
But when Andrew Columbia, a pastor and retired New York City police officer, arrived that Tuesday morning in September, those names hadn't yet emerged from the acrid smoke. Twenty years later, Columbia remembers the gray dust and, out of that dust, the faces of the police officers, medics, and firefighters who had seen devastation beyond comprehension.
"They were weeping. No one was really talking. They were in shock. I just walked up and offered prayer. Didn't even ask," Columbia said. "No one refused it."
In the years since then, as anniversaries have come and gone and the wreckage has been transformed into a memorial, Columbia has heard the periodic reminders to "Never Forget." But the first-responder community and the New York City pastors who minister to them have never needed that slogan. Forgetting has proved impossible.
The trauma of 9/11 has been a daily reality and a spiritual need for many in the past two decades.
This doesn't mean they always talked about their experience in terms of post-trauma. "Up until that time, post-traumatic stress just wasn't language that we had," said John Picarello, pastor of House on the Rock Christian Fellowship, a nondenominational church on Staten Island.
Like many pastors of small congregations in the outer boroughs, Picarello was bivocational in 2001. Or really, trivocational. …