---
Despite the lingering stereotypes, the Monterrey-based singer and minister set out to prove contemporary worship services can hold to the authority of Scripture.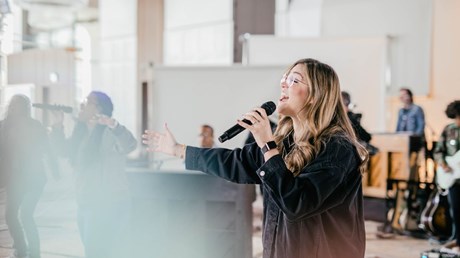 For Layla de la Garza, worship music has been a way to draw nearer to Jesus and the Word.
Having grown up in a conservative traditional church, Layla was transformed by listening to Passion's worship music as a teenager. Many years later, in 2015, she met CCM musician Christy Nockels, who became her mentor and invited her to participate in IF:Gathering. De la Garza has used her talents in this ministry to serve as a worship and teaching leader, multiplying IF's reach among the international Spanish-speaking community.
Back in her hometown of Monterrey, a city of more than a million in northeastern Mexico, some still remain suspicious of contemporary worship, with its bright lights and big stages. But at VIDAIN church, where de la Garza and her husband, Diego, serve as part of the pastoral team, they've set out to show that high production value does not mean compromising on the truth of the gospel. She's also the host of Notas con Dios, a podcast where she discusses finding God and hope in everyday life.
CT spoke with Layla about her vision for the church, the role of women in the church in Mexico, and her call to worship, ministry, and the fulfillment of the Great Commission. (This interview was originally conducted in Spanish.)
How would you describe the evangelical church in Mexico to people from other countries?
Latin Americans in general are very passionate. Relationships and building community are very important to us. Our relationships are very warm: We hug each other and create intimacy easily, even with people we have just met. These characteristics of Latin culture are very present in the evangelical church in Mexico.
It is beautiful because I believe we have the potential to be like the first …