---
More than 700 participate in first Korean World Missionary Fellowship convocation to be held within Korea.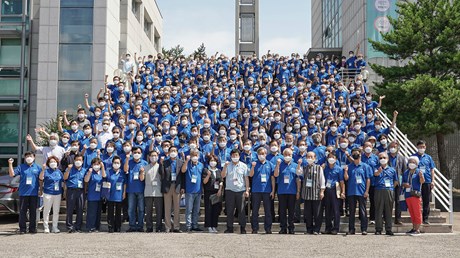 Long before K-pop swept the world, South Korean missionaries traversed it.
More than 20,000 missionaries belong to the Korean World Missionary Fellowship (KWMF), which last month held its first convocation hosted in Korea after decades of convening in the United States.
Despite the pandemic postponing the quadrennial event, the hybrid gathering cohosted by evangelical Handong Global University in the port city of Pohang drew 300 missionaries in-person and 400 virtually from 75 nations.
There was a tone of urgency among senior missionaries at the decline of a Korean missions movement that once sent the second-highest number of missionaries in the world. "We need to view our mission with a new perspective and engage in our work with more diverse approaches," KWMF Chairman Choi Keun-bong, who has worked as a missionary in Kyrgyzstan for 28 years, told CTS News. "If we do not do so, we may enter a time when it would be hard for missions to survive."
The three-day convocation, served by 300 mostly student volunteers, featured numerous panels and workshops on Korean missions as well as opportunities for fellowship. The days were long, kicking off with revival prayer meetings at 6:30 a.m. and wrapping up with worship services at 10 p.m.
Among the key themes of the convocation were North Korea, generational transition, and educational ministry. On the last day, the three came together in the Pohang Statement, translated from Korean into English, Spanish, and Chinese [further explained here].
For the first time in its history, the KWMF published a code of ethics for missionaries and a public call to emancipate from North Korea six South Korean Christians currently held captive from four to eight years [see sidebar …