---
A conversation with the director of the National Institutes of Health.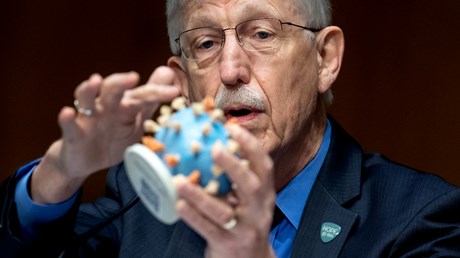 Over the last year of the US pandemic, a few key scientists and medical professionals have been lifted onto the national stage by their timely expertise. Americans turn to them for information, insight, and even pastoral care of a certain kind. Among those is the physician-geneticist Francis Collins, director of the National Institutes of Health (NIH) and founder of BioLogos.
Timothy Dalrymple, president and editor in chief of Christianity Today, and Ted Olsen, CT's executive editor, spoke recently with Collins about the Delta variant, vaccine hesitancy among evangelicals, and how Christians can come alongside communities that are still crippled by the virus.
Dalrymple: I understand there is an effort to get more folks vaccinated before July 4, and that's the reason for this conversation. But first, tell us about the Delta variant.
This Delta variant, which is the one that decimated the country of India, is leading to all kinds of terrible tragedies. It has now also taken over in the United Kingdom, where now they're wondering whether they can actually open up—which they planned to do—because this virus is spreading so rapidly.
It's about 50 percent more contagious than the previous record holder, which is the one we call Alpha. But Delta is even more contagious. And unfortunately, this has now come to the US, and in the last couple of weeks, about 6 percent of the viruses that were isolated from infected folks are this Delta variant. It's likely to grow very rapidly now, just because of its ability to spread.
It seems also really good at spreading amongst young people, who are often the folks who haven't gotten around to getting vaccinated, because they thought maybe this wasn't …