---
A conversation on the redemptive power of the Christian imagination.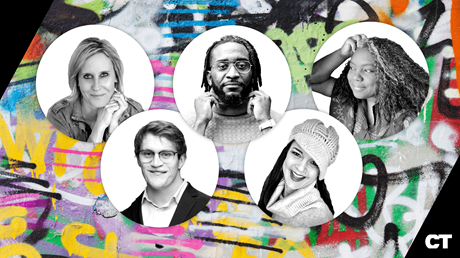 As Christians, we're called to help bring hope, healing, and beauty to a broken world. But our vision for what's possible is often overwhelmed by the suffering, division, and injustices in our society. Join recording artist Sho Baraka, poet and artist Morgan Harper Nichols, and other Christian creatives as they lead us in a thoughtful reconsideration of the redemptive power of the Christian imagination.
Our Panelists
Sho Baraka
Sho is a globally recognized recording artist, performer, culture curator, activist, and writer. His work seeks to elevate the contemporary conversation on faith, art, and culture. An alumnus of Tuskegee University and the University of North Texas, Baraka is a cofounder of Forth District and the AND Campaign, and he has served as an adjunct professor at Wake Forest School of Divinity. He was also an original member of influential hip-hop consortium 116 Clique, recording with Reach Records. His latest book is He Saw That It Was Good: Reimagining Your Creative Life to Repair a Broken World. Sho lives in Atlanta with his wife Patreece and their three children.
Morgan Harper Nichols
Morgan is an Instagram poet and artist who has created her life's work around the stories of others. Morgan's Instagram feed (@morganharpernichols) has garnered a loyal online community. Her books, How Far You Have Come and All Along You Were Blooming, combine her poetry and art. Known for its lyrical tone and vibrant imagery, Morgan's work is an organic expression of the grace and hope we've been given in this world. Morgan has also performed as a vocalist on several Grammy-nominated projects and written for various artists, including a Billboard No. 1 single performed by her sister, Jamie-Grace. …