---
Pew analyzes how pastors across traditions preached on COVID-19, the election, and racism.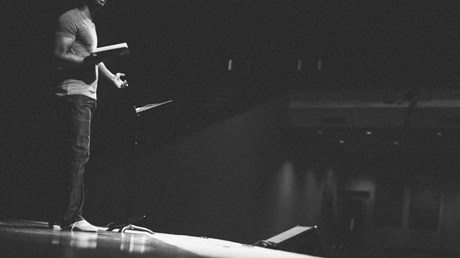 The stories that shaped Americans' lives in 2020—the pandemic, the presidential election, and the reckoning over racial violence—also made their way into a majority of sermons last fall, according to Pew Research Center analysis of 12,832 messages posted on church websites.
But whether your pastor preached about praying for the president or registering to vote, or the sermon referred to "racial tensions" or "white supremacy," depended on the kind of church you attended.
Overall, Protestants were significantly more likely than Catholics to address current events from the pulpit. And the spiritual framing differed between evangelical Protestants and Protestants from historically Black traditions, though the majority of Black Protestants share evangelical beliefs.
Over 80 percent of evangelical and Black Protestant churches heard sermons around COVID-19, while 71 percent of evangelical and 63 percent of Black Protestant churches addressed the election, and 41 percent of evangelical and 52 percent of Black Protestant pastors preached on racism.
Like many pastors across the country, R. Derrick Parks at Epiphany Church in Wilmington, Delaware, spent 15 months delivering his Sunday messages to a camera while his 100-person church paused in-person services during the pandemic.
An African American and the executive coordinator of Acts 29's urban church planting, Parks said that during this time, he heard responses from congregants who were "encouraged when we directly spoke to issues of justice"—a regular theme in his preaching and in Scripture.
Months after the deaths of Ahmaud Arbery, Breonna Taylor, and George Floyd stirred protests in major cities, racism continued to …