---
He personally led more than 10,000 to Christ and grew Briarwood Presbyterian from a storefront to a megachurch.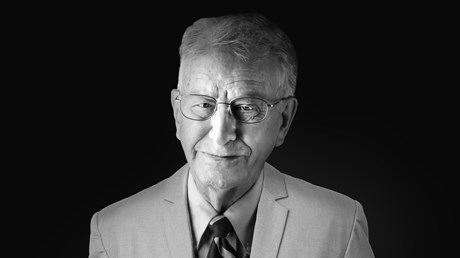 Frank Barker Jr., the founding pastor of one of the flagship congregations of the Presbyterian Church in America (PCA), died on December 27. He would have turned 90 this month.
Barker started Briarwood Presbyterian Church in a storefront in a Birmingham suburb and grew it to a congregation of more than 4,000 by the time he retired in 1999, making it one of Alabama's first megachurches and a strong example of the PCA's commitment to evangelism.
"He both modeled and motivated the PCA to be passionately committed to the Great Commission, the basic work of evangelism, and discipleship," Harry Reeder, who succeeded Barker at Briarwood, told byFaith, the PCA's denominational magazine. "He was an excellent example of being a true churchman with a kingdom heart."
According to Barker's daughter Peggy Barker Townes, he personally led about 10,000 people to Christ and discipled countless more in Birmingham, around Alabama, and across the Southeast. Notable people who studied the Bible with Barker include Alabama Republican Party chairman Bill Amistead and Auburn Tigers placekicker-turned-evangelist John "Rat" Riley.
"If you meet a Christian in Birmingham who is 60 or older," Campus Outreach pastor Olan Stubbs told The Gospel Coalition in 2018, "and you ask them how they came to Christ, I'd bet my money that at some point they'll mention Frank Barker."
'The wages of sin is death'
Barker was born in Birmingham on January 31, 1932. By his account, he went wild in high school, continued his raucous living at Auburn University, and partied his way into the US Navy, where he trained to be a jet pilot.
He was occasionally scared straight by …