---
Christians share grazing pasture as climate crisis devastates the region.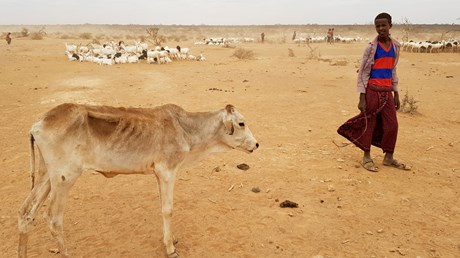 In one picture, dozens of pale-skinned cattle lie dead or dying in the baking heat. In another, a cow with its bones visible beneath its skin drinks from a green plastic bowl of water supplied by its owner.
"The situation is heartbreaking and painful," said Yishak Yohanes Dera, president of the South Ethiopia Synod of the Ethiopian Evangelical Church Mekane Yesus (Place of Jesus).
As the senior official of one of Ethiopia's leading Protestant churches, with more than 10 million members, Dera is appealing for help to prevent starvation in four of country's low-lying regions. They are in the grip of a devastating drought.
He is talking to aid agencies, faith-based organizations, and government bodies, asking them to "come to Borena and save the lives of our people."
The church, which is part of the World Lutheran Federation and has associations with the Missouri Synod Lutherans and the Reformed Church in America, has dispatched its humanitarian and development organization to work in the Borena Zone, in the Oromia Region. This is one of the worst-affected areas.
In Borena alone, 420,000 people urgently need food aid, Dera said, while more than 400 schools have no water, and most of the children have left.
"The situation is expected to worsen," he told CT. "During this lean period, more animals are expected to die. This may push many children, women, and old-aged people into famine and unexpected death."
More than 90 percent of the 1.2 million people in Borena live off their flocks of sheep, cattle, goats, and camels. The loss of water leads to loss of livestock, and loss of livestock to loss of livelihood.
World Vision reported last June that across six countries in East …