---
After eight years, the 77-year-old Washington state grandmother is retiring from her business and her religious liberty fight.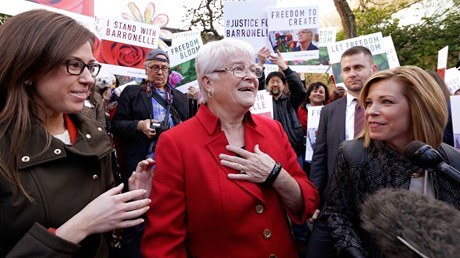 A florist in Washington state who was in an eight-year legal battle that reached the US Supreme Court will retire after settling with the same-sex couple whose wedding job she refused.
Barronelle Stutzman of Richland, Washington, announced the settlement Thursday, saying she has paid $5,000 to Robert Ingersoll, The Tri-City Herald reported.
She said Jesus "walked with me every step of the way" through her legal journey and also wished Ingersoll, who had been her customer at Arlene's Flowers for almost a decade, "the very best."
Ingersoll and his husband, Curt Freed, plan to donate the settlement payment to a local PFLAG chapter, and personally match the $5,000.
The agreement allows Stutzman to "preserve her conscience" by not forcing her to act against her Southern Baptist religious beliefs, according to a news release from her attorneys with Alliance Defending Freedom. They reached the settlement with the American Civil Liberties Union.
It also prevents Stutzman from having "to pay potentially ruinous attorneys' fees," the release said.
"I am willing to turn the legal struggle for freedom over to others. At age 77, it's time to retire and give my business to someone else," Stutzman said.
"I wish the culmination of all that I've been through could result in a new respect, culturally and legally, for freedom of conscience in our country," Stutzman said. "From the beginning, I have asked no more than the freedom to act in accordance with my religious beliefs and personal convictions. I have treated those who persecuted me with respect, and with the assurance that I want for them the same freedom that I ask for myself."
Alliance …