---
What does the Resurrection tell us about God's plans for us?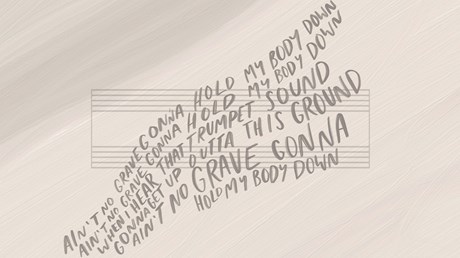 1934
Twelve-year-old Claude Ely was dying in Virginia, stricken with tuberculosis. As his family huddled in prayer around his bedside, the boy began to sing:
Ain't no grave
Gonna hold my body down
Ain't no grave
Gonna hold my body down
When I hear that trumpet sound
Gonna get up outta this ground
Ain't no grave
Gonna hold my body down
Claude eventually recovered. And the healing in his lungs was so complete that he grew up to become a singer and preacher known for his freight-train volume and Pentecostal gusto. In adulthood, he traveled the South as the "Gospel Ranger," proclaiming the resurrection power of Jesus in one righteously raucous revival meeting after another.
On October 12, 1953, almost 20 years after Brother Ely's boyhood healing, King Records captured him in a "live worship" recording session at the Letcher County courthouse in Kentucky. The audio for "Ain't No Grave" has been preserved, and listening to it is a visceral experience. "Ain't no …" Claude sings, like he's pulling a boulder back in a slingshot. "Graaaaaaaaaaaave," he hollers, like he's letting the boulder fly. Other worshipers join him, shout-singing and clapping on off beats in a Spirit-fueled Pentecostal Holiness style, overpowering the microphones with gloriously distorted exuberance.
If Ely delivered "Ain't No Grave" like a sonic earthquake, perhaps it's because he could trace the song's conviction back to a literal earthquake. Consider how Matthew describes the moment in history that makes the song true: "After the Sabbath, at dawn on the first day of the week, Mary Magdalene and the other …