---
The Great Commission plus the Great Commandment added to a Great Commitment, multiplied by Great Collaborations results in Great Communities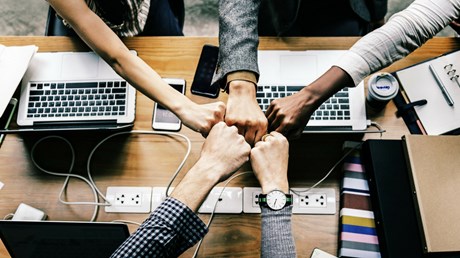 The 21st-century church is struggling because we refuse (or even resist) to recognize that the enculturated presuppositions which have birthed our visions and undergirded our strategies are no longer effective. American culture, from Hollywood to Cupertino to Wall Street to DC, considers the church to be irrelevant at best, becoming indifferent to our presence and increasingly belligerent to our principles.
Personal values have replaced biblical teachings.
But I see good news, as a growing number of Christian thought leaders and best practice mobilizers recognize the need to return to our biblical foundations. They are seeking the mind of Christ for applications to our time and troubles. Together at the table, they are choosing the discernment of the Holy Spirit rather than the latest trend on the cover of Harvard Business Review. We must #ReimagineChurch.
Could it be what the Spirit is saying to the Church can be capsulized in a simple equation?
(GC + GC + GC) X GC = GC
The Great Commission plus the Great Commandment added to a Great Commitment, multiplied by Great Collaborations results in Great Communities
Let's unpack that equation . . .
Great Commission
Matthew 28: 19-20 says, "Now go in my authority and make disciples of all nations, baptizing them in the name of the Father, the Son, and the Holy Spirit. And teach them to faithfully follow all that I have commanded you."
Every church claims the Great Commission as their purpose, or incorporates "…as you go, make disciples, of all peoples" (Matt. 28;18-20) into their vision or mission statement. But the rapidly changing views and radically different values of our culture require a reexamination of biblical teachings on mission ("as …